Aromatherapy Pulse Point Roll-on | Eucalyptus, Tea Tree & Coconut
Eucalyptus, Tea Tree and Coconut oils
Pulse point aromatherapy roll-on, essential oil blend to help calm and rebalance you mind, body and soul.
500mg broad-spectrum CBD in 10ml.
Fits into a pocket or bag, for quick on the go relief.
An easy and convenient way to top up your topical CBD levels.
Perfect companion for yoga, meditation or mindfulness.
100% natural, vegan and ethically sourced.
Let our all natural essential oil aroma of awakening eucalyptus, medicinal tea tree and uplifting coconut help rebalance you. Allowing negativity to flow out and positivity in. Our balancing pulse point roll-on has been designed for those that need a little help getting back to equilibrium during their day and those that like to topically apply their CBD to the source. With a generous 500mg of premium broad-spectrum CBD in every 10ml, you can be ensured of its effectiveness. 
The perfect aide for those that need a little help during their day to recentre themselves ready for the next challenge to come their way. A great pairing to meditation, or before a yoga class where you can embrace the medicinal and healing notes of eucalyptus and tea tree. Use it on your pulse points, such as temples, wrists, or even the sole of your feet, allow the essential oils to absorb and experience a deep relaxing sensation. Pair this pulse point roller with mindfulness exercises to bring yourself back to balance.
[The TLD Difference]
At The London Dispensary we make sure our range of CBD products are as good for you as they are for the environment.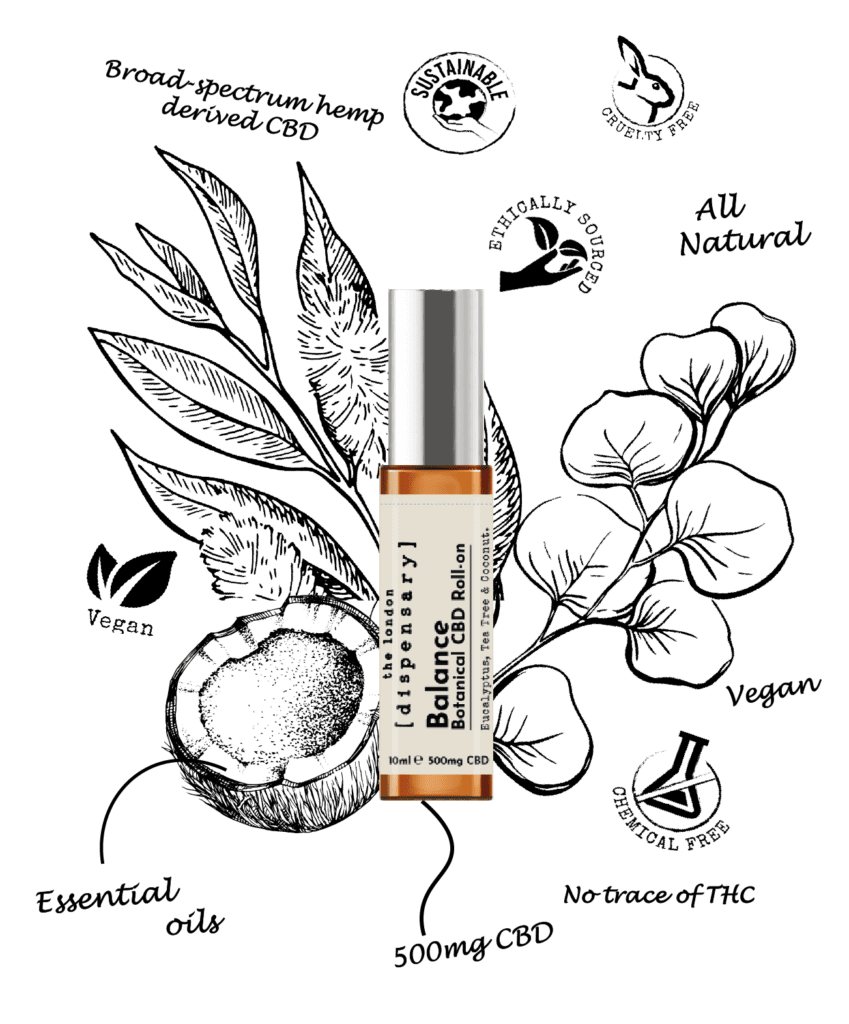 CBD Rollon Product Information
Our CBD rollon is a convenient way to apply CBD topically to where you need it most. We have taken the best of aromatherapy and infused it with CBD to bring you a unique and pocket sized companion for when you need a little calm in your day. 
We are advocates of making more conscious buying decisions. So, we crafted this balancing pulse point roller using nothing but all natural materials and nestled it inside eco-friendly sustainable packaging. Find out more about our drive for sustainability here.
Ingredients
Oenothera Biennis (Evening Primrose) Oil, Rosa Canina (Rosehip), Persea Gratissima (Avocado), Persica (Peach) Kernel Oil, CBD, essential oils: Eucalyptus globulus (Eucalyptus) Oil, Melaleuca alternifolia (Tea Tree) Oil, Cocos nucifera (Coconut) Oil, Citrus Aurantium (Orange) oil, Arnica Montana (Arnica), Chamomilla Recutita (Chamomile) Flower Oil, Menthol Crystals.
Contains: Citral, Linalol, Limonene, Geraniol, Citronellol.
Advice
Read the packaging and label fully before use. Contains naturally occurring essential oils.
Store in a cool, dry place away from direct sunlight. External and adult use only.
Please recycle or reuse all of the packaging and vessel parts. The vessel is glass, the label can stay on as its paper and breaks down in the process. 
When to Use
The perfect daytime companion. Keep your rollon in your pocket or bag, for a quick and easy application. Designed to aid in relaxation and to bring you back to centre. Use to regain yourself and reduce stress by rolling onto a pulse point and inhaling the intoxicating scent of calm.
For the ultimate in holistic calm pair with our 5% or 10% Balance Drops. For an all-round sensory experience.
How to Use
Remove the cap, and place the stainless steel rollerball onto a pulse point, such as your wrists, or temples. In a circular motion move the rollerball around gently pressing against the skin. Once desired amount of oil has been applied replace the cap.
Can also be used in the same way to a stiff or tight muscles. Using the rollerball like a massager to relieve tension.
CBD roll on
Absolutely amazing as a starter idea to get into CBD therapy. Beautifully presented with a tester of the gummies! Such a lovely thought and just a generally lovely company to buy from
Thank you so much for your lovely review. We are pleased you like your new pulse point roll on, the balance version is one of my favourite aromas in the collection. Its great to hear you enjoyed your experience with us too. Look forward to welcoming you back soon.
The London Dispensary Team