Aromatherapy CBD Candle – Grounding
An essential oil CBD infused candle in a jar. With the aroma of Sweet Orange, Bergamot, Frankincense and Indian Ginger. Hand poured using our in house blend of coconut, soy, and rapeseed wax. Our Grounding CBD Candle has top notes of refreshing citrus, heart note of warming and rich frankincense and base note of indian ginger. Creating a zesty yet earthy atmosphere.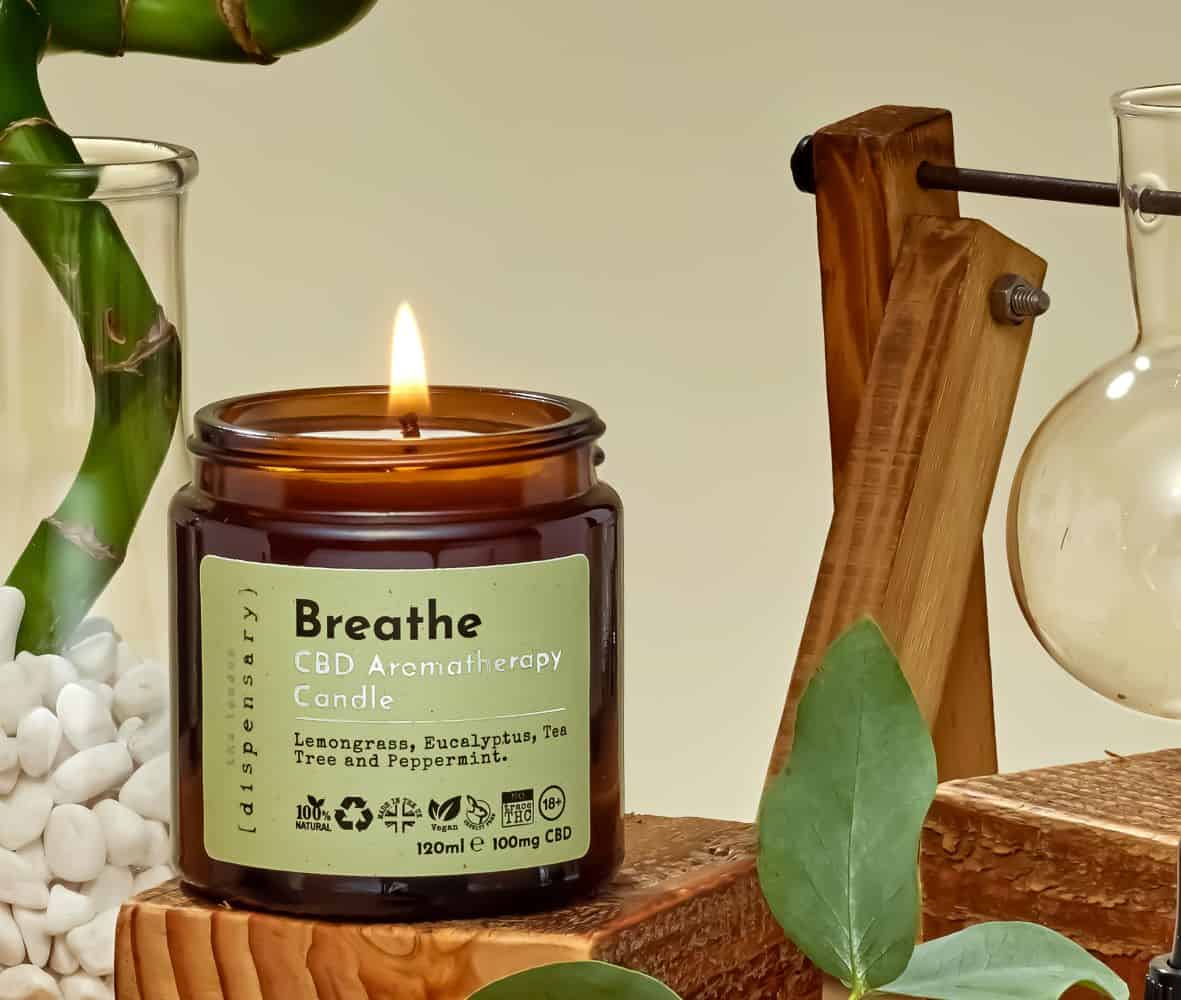 CBD Aromatherapy Candle – Breathe
An essential oil CBD infused candle in a 120ml jar. With top notes of Lemongrass, heart notes of Eucalyptus and Tea Tree, and a refreshing base note of Peppermint. Hand poured using our in house blend of coconut, soy, and rapeseed wax. Our Breathe CBD Candle refreshes the mind, and resets your perspective. Helping you to take a moment to breathe.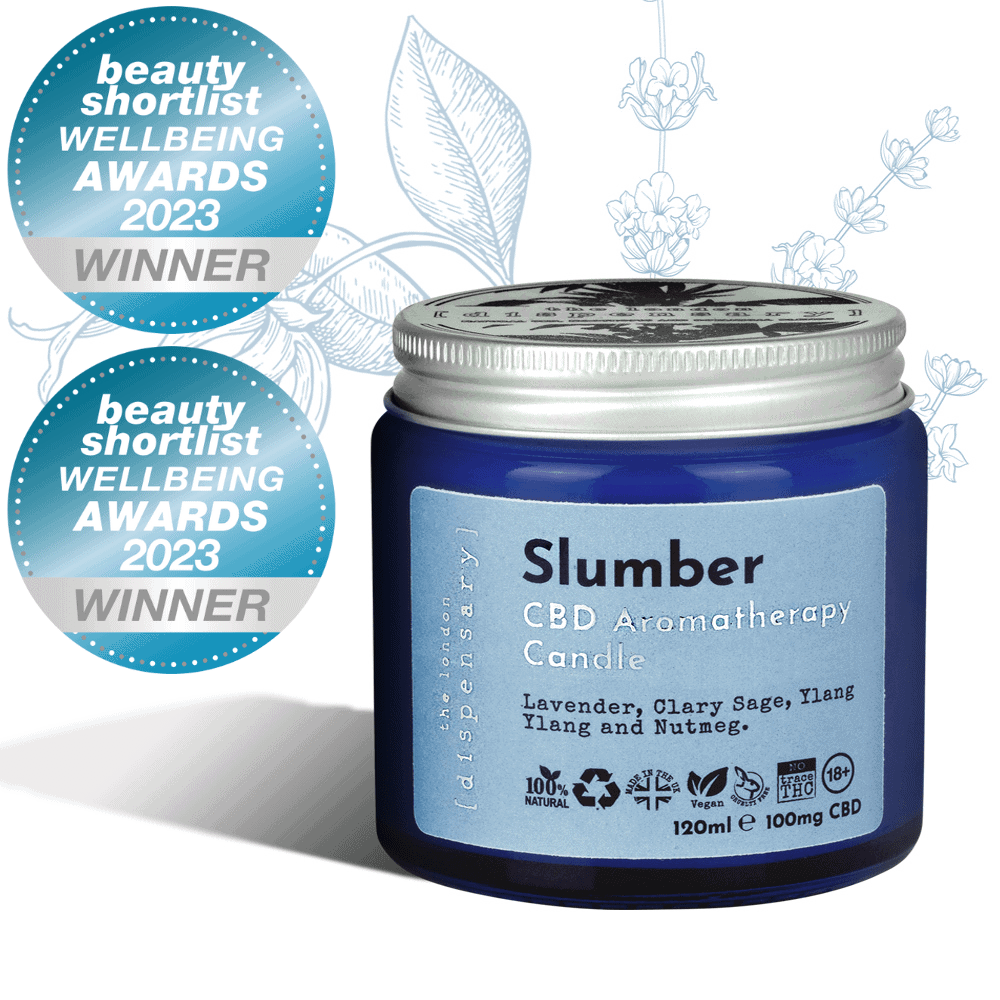 Aromatherapy CBD Candle – Slumber
Our soothing and calming candle blended with floral top notes of Lavender, Clary Sage, Ylang Ylang and with a warming nutmeg base note. Infused with 100mg of CBD, our CBD candles work by releasing terpenes into the air that each have a beneficial effect. Our Slumber blend calms and relaxes perfect for an evening wind down or bath time.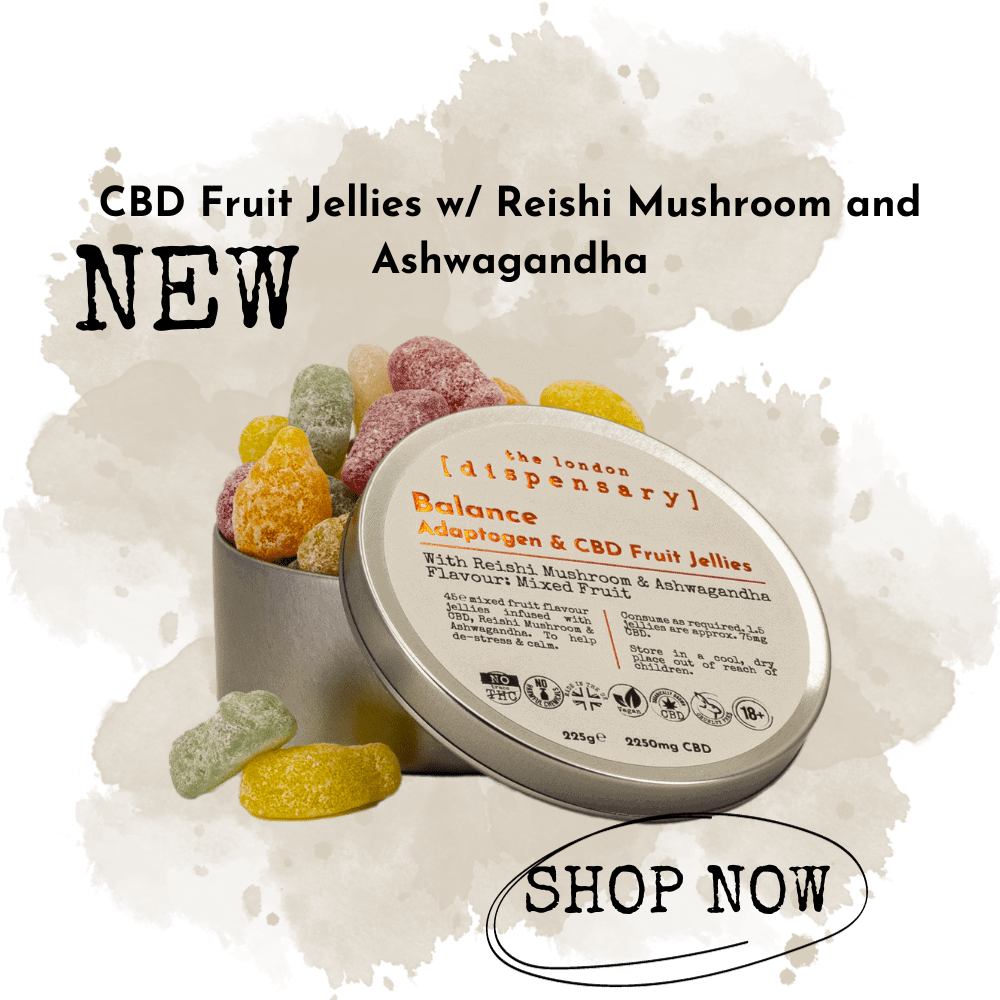 'The London Dispensary's sustainable packaging is beautiful and the products they create are equally as brilliant.'
'Thanks to The London Dispensary, we could take a snooze right under our desk.'
''It was the tasty gummies loaded with high-dose CBD and functional mushrooms that won me over''
''The smell is divine and so effective in helping me drift off.''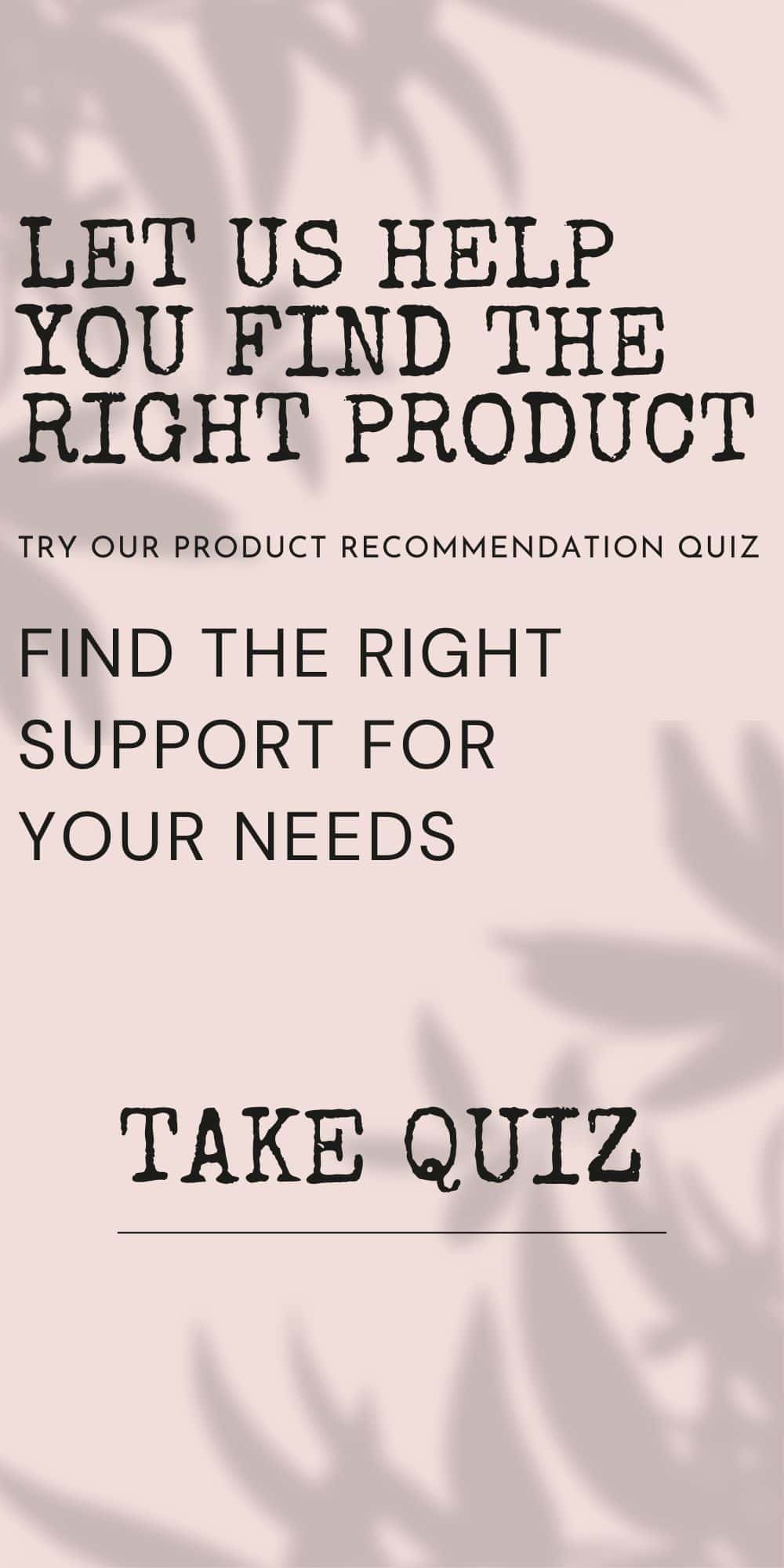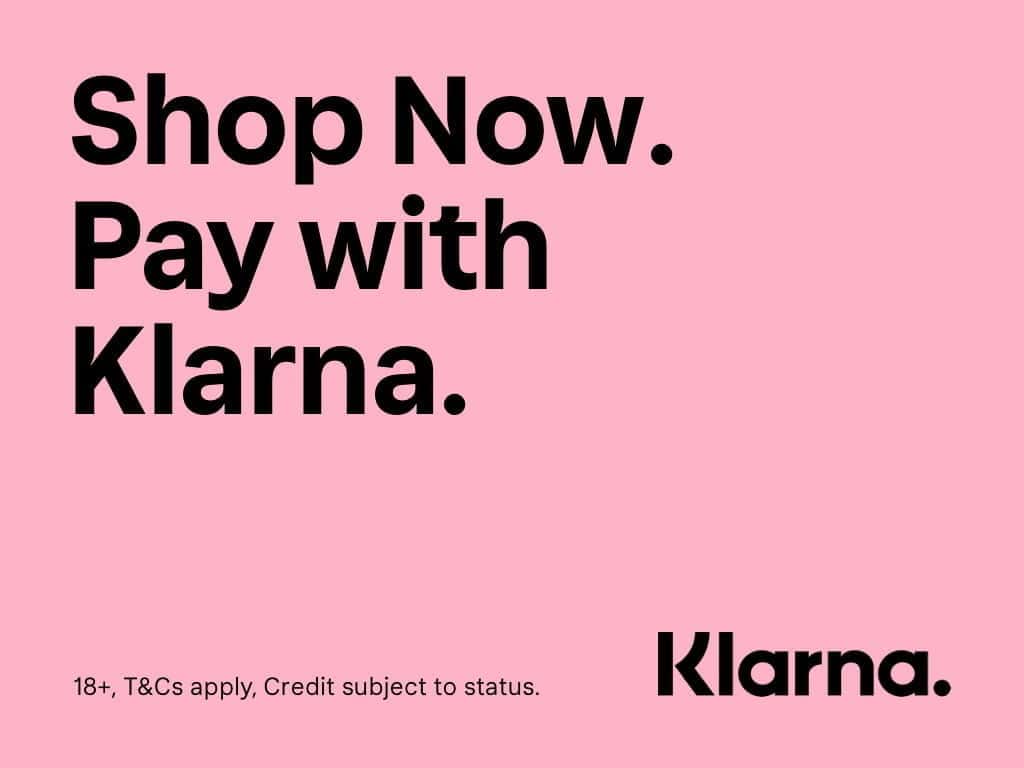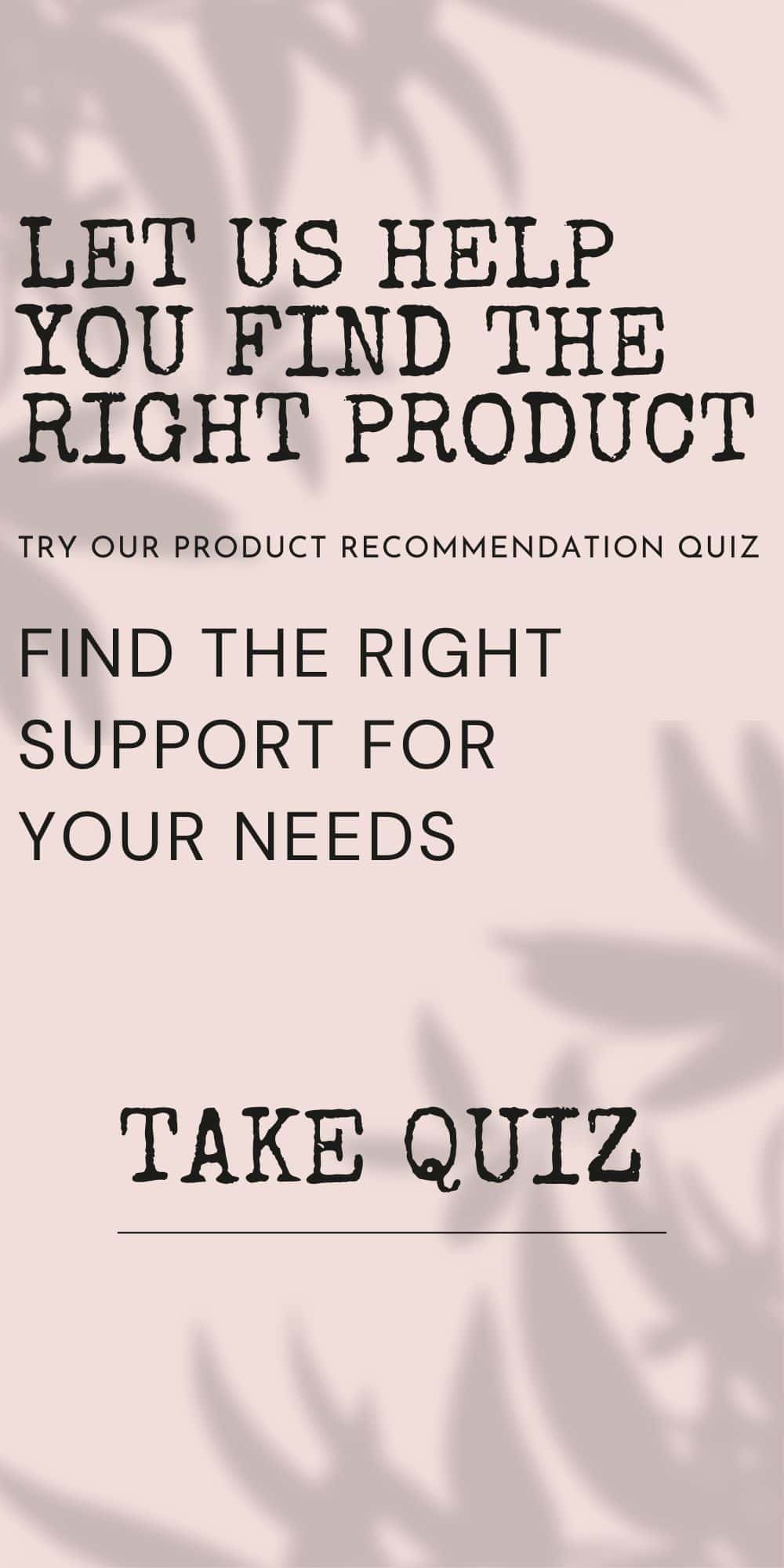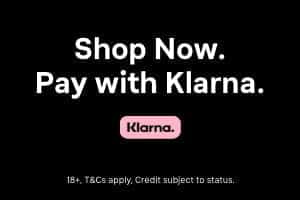 [ Try our luxury aromatherapy range ]
What are CBD Candles?
CBD candles are made by infusing CBD (cannabinol) into soya or other types of candle wax. Best when they are blended with essential oils, like lavender, eucalyptus, and peppermint, plus natural materials and fragrances that provide a unique experience when lit.
CBD Candles offer the same calming effects as regular scented candles but with an additional boost of relaxation thanks to their combination of aromas. CBD candles can be used to create a soothing atmosphere in any space, whether it's your bedroom or living room.
CBD candles are also a great way for beginners to start exploring the world of CBD.
How do CBD candles work?
CBD in all forms is a very personal effect, it can affect each of us in different ways. Also, there is still a lot left to understand about the endocannabinoid system. But what we do know is that by using essential oils our candles have no harmful unnatural chemicals, and by being all natural when burnt they release terpenes into the air. We are a big believer in the power of terpenes.
Each has its own benefit to us, some calm, some invigorating, and they are airborne when heated. CBD is also made up of terpenes, this is what gives its family member, cannabis each of its distinct aromas as well.
I normally mention 'passive smoking' to people and they then normally understand how CBD candles work a bit better.
Are our candles vegan candles?
Yes all of our CBD candles and wax melts are 100% vegan candles. 
Are our CBD candles Sustainable?
Yes our CBD Candles are fully sustainable. We use a unique blend of candle wax, which is vegetable-based and derived from soya, coconut and rapeseed. Which are all ethically sourced without hurting plant or person. 
The wick in our essential oil candles is paper and cotton.
What are the best calming candles?
The best calming candle is going to come down to personal preference. But we do feel CBD and essential oils play a vital role in creating calming candles, due to the terpenes used and the CBD effect. All of our CBD candles have calming effects.
But our Slumber CBD candle has picked up 2 wards for its calming effect.
How do CBD candles help reduce stress?
The combination of aromatherapy and CBD compounds work together to reduce stress and promote relaxation. The fragrant aromas naturally soothe the mind and body while the added CBD helps manage stress on a more physiological level. Inhaling the scent of CBD candles can help free the mind from worrisome thoughts and provide feelings of calmness. People often use CBD candles before bed or during stressful situations to feel more relaxed and enjoy a better night's sleep.
How often should I use a CBD candle for stress relief?
The frequency of use will depend on your individual needs and preferences, but generally speaking, CBD candles can be used as needed to provide a comforting and relaxing atmosphere. Using it every night prior to bedtime may be an option if someone is suffering from chronic stress or difficulty sleeping. Alternatively, the scent of a CBD candle may also be beneficial during moments of high stress throughout the day – such as right before an important meeting or exam.
Boost
---
Boost your day the natural way.
Balance
---
Balance your mind, body and soul.
Bed
---
Carefully crafted to enhance sleep.